It's nearly time to gather around the Thanksgiving table again! No matter what the size of your celebration is, Thanksgiving is a wonderful time to enjoy food with family and friends. But it can also be a time where we overindulge in our favorite foods, which can be loaded with extra fat, calories, and cholesterol.
And while all fats aren't all bad (more on that in this blog), it can be important to monitor what you're eating so you can feel your best. If you're looking to lighten up the dinner table this year, here are five dishes where you can make some heart-healthy Thanksgiving swaps!
Appetizers
While you're waiting for the main meal, appetizers can be a great way to stave off hunger so you aren't as tempted to overeat. If you're planning to bring a dip to your gathering, swap out dips made with mayonnaise or sour cream for lighter alternatives, like dips made with plain Greek yogurt. And instead of salty snacks, head over to that long-neglected veggie tray for a few healthy bites.
Turkey
Don't worry, meat lovers - the turkey can stay on the Thanksgiving table. Turkey is already naturally rich in nutrients including protein, vitamin B6, zinc, and phosphorus. However, fried turkeys drenched in butter can load up your plate with lots of extra fat and cholesterol. For a heart-healthy alternative, opt for a bird seasoned with olive oil and spices, and avoid the skin, as that's where most of the turkey's fat content is located.
And what of the dark meat vs. white meat debate? Well, it's a bit complicated. While white meat boasts lower levels of fat overall, dark meat contains lots of "good" unsaturated fats and nutrients like iron, zinc, and selenium. Either one can be a healthy option - just be sure to eat your meat of choice in moderation and be mindful of your portion size.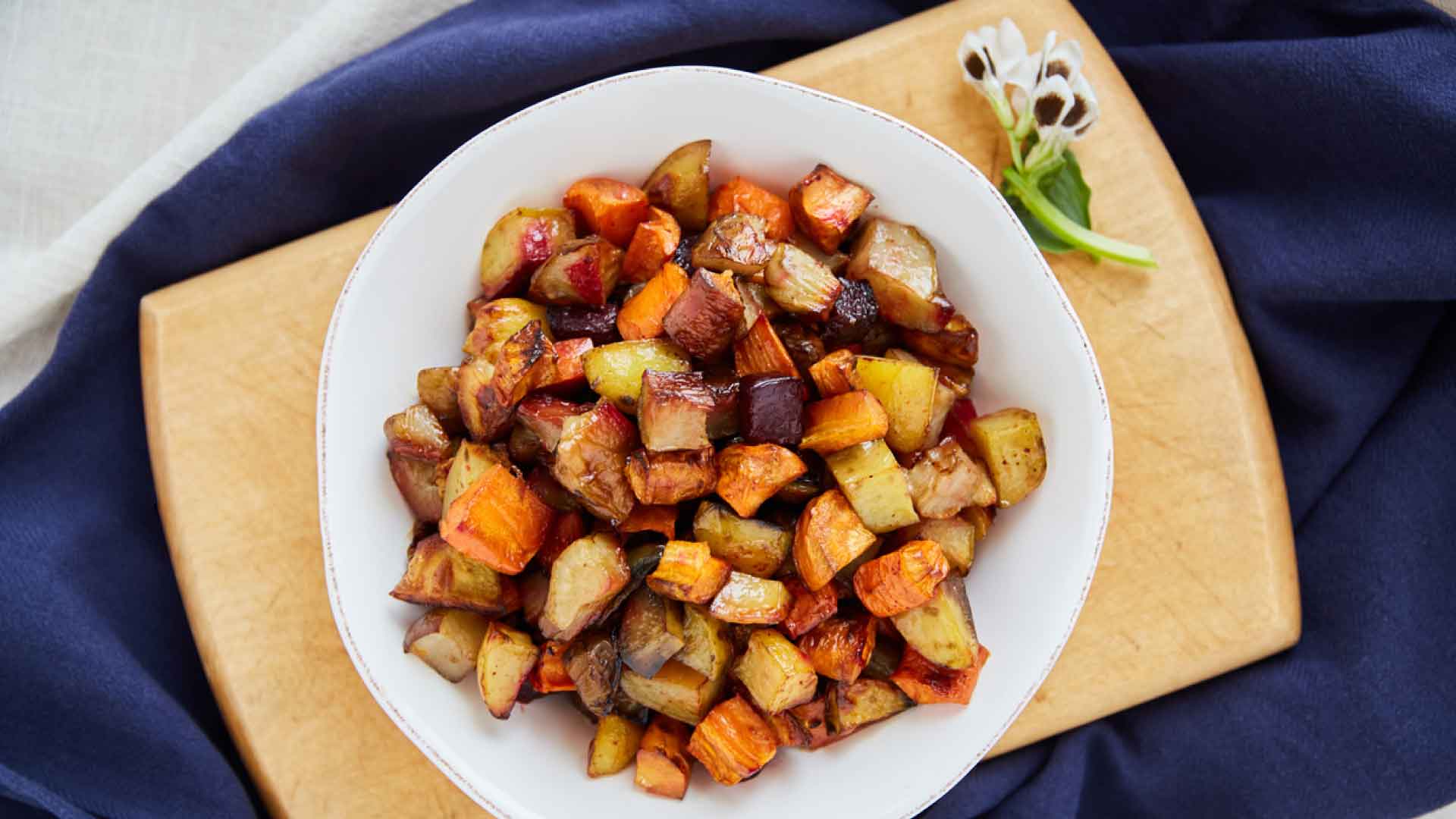 Sweet Potatoes
Sweet potatoes are another classic Thanksgiving staple, and they're packed with vitamin A, fiber, and potassium. While it's tempting to load up this delectable side with lots of extra butter and sugar, these starchy root vegetables have enough flavor to stand on their own without all the extras. To keep things simpler and healthier, try roasting or baking sweet potatoes with herbs and spices.
Mashed Potatoes
We all love some rich, creamy mashed potatoes on the side, and spuds can be a great source of vitamins A, B, C, and potassium. But generous additions of butter, cream, and salt can turn your mashed potatoes into a fattening indulgence. Try swapping out heavy cream for low-fat milk or broth, and halve the amount of butter you usually include and let your guests add their own. Grass-fed butter can also be a great way to boost your omega-3 intake, as one study found that cows who are grass fed have a higher omega-3 fatty acid content in their milk. [1]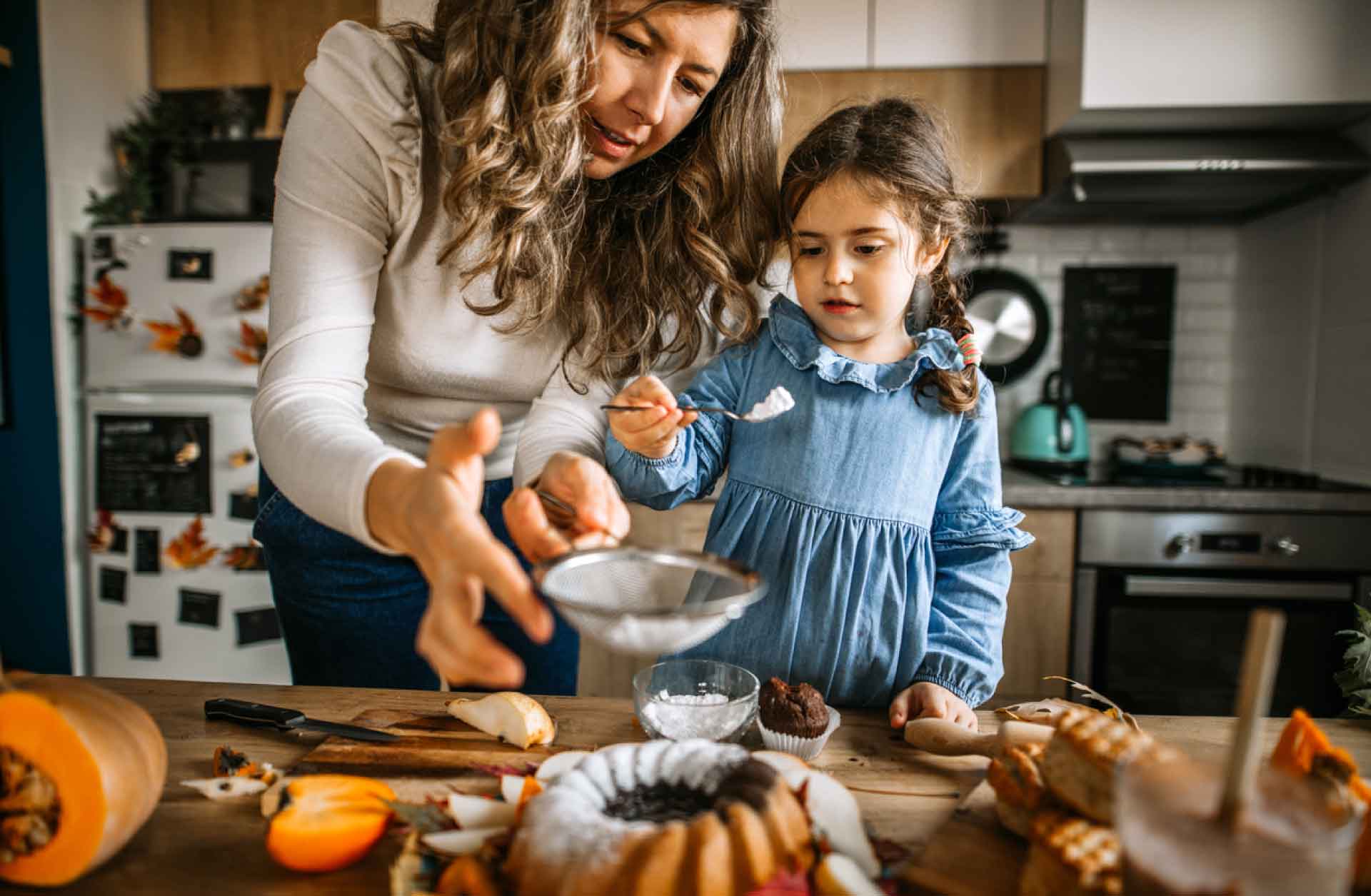 Dessert
We can't forget dessert! With just a couple new ingredients, you can transform Grandma's classic recipe into a dish that tastes just as good as it feels to eat.
Switch heavy cream with low-fat or skim milk. For our dairy-free friends, oat milk can also be a great dairy substitute. However, if you need a thickening agent, try to aim for a "full-fat" version - otherwise, your dish may have a thinner consistency.
Use a blend of white and whole wheat flours.
Swap sugar for applesauce for a sweetener alternative. Stevia is also a great plant-based sugar substitute, but how much stevia you need may vary depending on what dish you're making, as well as whether you're using a liquid or powdered version of stevia.
To cut down on eggs, substitute in 1 tablespoon of ground flax seed plus three tablespoons of water per each egg. Increase the water and flax content proportionally as you substitute for more eggs (i.e. for 3 eggs, substitute 3 tablespoons of flax plus 9 tablespoons of water).
Reduce oil content by swapping out one cup of banana per cup of oil.
Let's be honest - the health habits you practice over time can make just as much of an impact on your heart health as one single meal per year. If you want to get a big-picture look at your heart health, try our at-home advanced heart health test to get health answers.
For an even more comprehensive overview of your health, get a premium heart health test and get insight into 10 critical biomarkers. Or, check out our cholesterol DX test to find out how your body is producing and absorbing cholesterol. Your heart will thank you!
---
Sources
[1] Hebeisen, D F. "Increased Concentrations of Omega-3 Fatty Acids in Milk and Platelet Rich Plasma of Grass-Fed Cows." International Journal for Vitamin and Nutrition Research., vol. 63, no. 3, 1993, pp. 229–233.